Fri 7 Nov 2008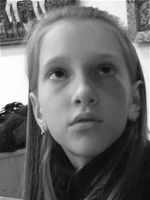 The Bee
In your stomach
there lived a little bee.
She liked to eat some honey
and sing a song about a tree.
She dreamed of money,
but it is not free.
words and music by Dana Yastremskaya (age 10)
Minsk, Belarus
There's a short version (0:35) and a longer version (1:10).  It's a beautiful song, so I couldn't help adding stuff to the long version.  However, the short version is all Dana.  The drawing of the bee is by Dana too.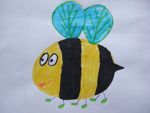 The Bee
[ 0:35 ]
Play Now
|
Play in Popup
|
Download
(3628)

The Bee, long version
[ 1:10 ]
Play Now
|
Play in Popup
|
Download
(3865)