Tue 23 Jan 2007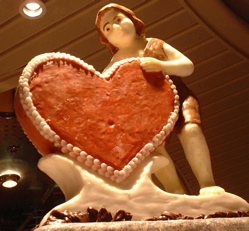 Investigative reporter Kristin Krinks takes a tough look at the history of Valentine's day.
Be sure to listen to to the audio (below).
Teachers can make a listening activity by copying and pasting the text below into a Word document and making a gap-fill activity.
You might want to listen to the outtakes too.

Long ago, in ancient Rome there was a festival, celebrated in February, where men on the streets hit women with pieces of goatskin.
This was said to help make them become more fertile. (In reality, it probably just made them distrust men. And maybe goats too). Oh, incidentally the goatskins were called FEBRUA. Can you guess what word we get from that?
Later, Rome conquered France. You know for certain that when the Italians and French get together, something romantic will ensue.
They had a festival, and what they did was this: A woman wrote her name on a note, and she may have added a few lovely-dovey or suggestive words. Then the note was put into a barrel, and a man would reach in and chose one.
It was a kind of love lottery.
We don't know what the happy couple did together after that, but these barrel notes might actually have been the first form of Valentine's Day cards.
But that doesn't tell us who St. Valentine was.
Again, nobody really knows. But during the Roman Empire days, young soldiers were often forbidden to marry. There was a religious man who didn't agree with the no-marriage-for-soldiers rule, and he went against the law and married people anyway.
His name was Valentine. Good for you, Valentine.
Sadly, he was executed.
There you have it. Some of the possible roots of Valentine's Day.
Samples used from Freesound in the audio:
By sukaton (http://freesound.iua.upf.edu/usersViewSingle.php?id=13313)
drawing3.wav (http://freesound.iua.upf.edu/samplesViewSingle.php?id=17859)
By acclivity (http://freesound.iua.upf.edu/usersViewSingle.php?id=37876)
Cheer.wav (http://freesound.iua.upf.edu/samplesViewSingle.php?id=22952)

History of Valentine's Day
[ 3:03 ]
Play Now
|
Play in Popup
|
Download
(1285)

Outtakes Valentine's History
[ 1:04 ]
Play Now
|
Play in Popup
|
Download
(890)