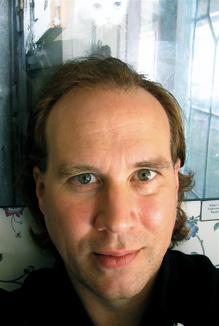 Kevin McCaughey
(pronounced McCoy, and sometimes McCoffee)

Teaching: world

— Senior English Language Teaching Fellow, Aqaba Jordan, (2007-2008).  Training most of the English teachers in the south of Jordan.
— Fulbright Scholar, Minsk State Linguistic University, Belarus, (2007-2008)
— U.S. State Department English Language Specialist Visits: Russia, Saudi Arabia, Tajikistan, Turkmenistan, Ukraine, (2005-2006)

— English Language Fellow, Vladivostok, Russia, (August 2003 – July 2005)
— Teacher Trainer, Soros Open Society Institute, Samara, Russia (August 2000 – July 2002). Additional trainings in Moldova, Tajikistan.
— EFL Instructor, Soros Schools, ChiÅŸinău, Moldova (August 1997 – July 2000)
Teaching: u.s.a
— Instructor, University of Maryland: summer session for visiting Japanese (2006)
— Instructor of Creative Writing, Composition and Literature: Miami University, Ohio (1988-1991)
— Distance Writing Instructor, Center for Talented Youth, Johns Hopkins University, Baltimore, MD (October – June, 1994-1995 & 1989 -1990)
Education
— MS Ed. in TESOL (August 2003), Shenandoah University, Winchester, VA

— M.A. in English, Creative Writing (August 1990), Miami University, Oxford, Ohio

— A.B. in English, Creative Writing (March 1986), University of California, Davis
Awards
— Bennett Writing Fellow, Phillips Exeter Academy, Exeter, NH (August 1991 to June 1992)
Publishing
— Founder and editor of "English Teachers in Russia & Elsewhere," monthly e-textbook of English-teaching material with 1800 subscribers in 35 countries, 6 years of publication.
Subscribe me!
— Teaching articles, travel writing, and fiction in twenty journals including Travelers' Tales, World Englishes, ESP World, Tales From a Small Planet, Manoa, and One Stop English. Kevin has a Travel Guide to Vladivostok at Way to Russia.